Free Case Table or Banner Stand with Mirage Purchase!
FREE with Mirage Purchase! Banner Stand - Up to $700 (U.S.) value or Case Table - $515 (U.S.) value.
Get Info >>
Mirage Advantage Pop Up Display
Learn more about the best looking, longest lasting, easiest to set up pop-up display!
Get Brochure >>
Tabletop Display Brochure
28 page brochure describes Skyline's 5 tabletop display systems.
Get Brochure >>
Mirage Pop-Up Displays: The very best pop-up frames now available in 3 styles
Great look and convenience! Mirage® pop-up displays give you a classic curved look and big, seamless graphics. Mirage is easy to set up, ship, and transport.
The most durable pop-up frames available. Period.
Mirage frames are the most durable in the industry. If impacted, they bounce back without damage -- unlike any other pop-up. All Mirage frames share the same graphics, panels and accessories and all frames and channels have a lifetime warranty.
Mirage Classic: Fiberglass composite frame with manual connectors
Mirage Advantage: Fiberglass composite self-locking frame
Mirage Plus: Carbon composite self-locking frame
Is Mirage's composite frame more durable than aluminum?
Watch this video to see how durable MirageŽ is!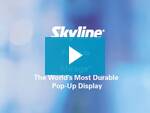 MirageŽ Set-up Video! Click Play!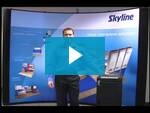 Pop-Up Q&A: Key things you need to know. From Exhibitor magazine. (Download.pdf)
Mirage vs. Internet pop-ups: Testimonial says no comparison.
Read more.
New Mirage Monitor Mount
Digital presentations add 'pop' to Mirage. Now portable exhibitors can seamlessly incorporate digital images and video presentations into their display!