Arrive® Banner Stand & Case Table
Arrive Banner Stand Display & Case Table Workstation
Everything In One Case!
Arrive with everything you need. A complete 10' (3m) display in a single case that converts into a functional computer workstation with built-in wire management.
Exalt® Curved Banner Stand
Choose your banner stand display! Either Exalt, which converts from linear to curved with the simple flip of levers for a look unique to banner stands...
Myriad® Banner Stand
...or Myriad,designed with integral merchandising capabilities. Myriad has stylish shelves and literature holders.
Single-Case Portability
Arrive case holds your banner stand display along with accessories and graphic wrap that transform your case into a branded workstation.
From Case To Workstation
Arrive transforms with ease. Your entire display and workstation sets up in less than 30 minutes.
Multi-Functional Workstation
Arrive case features a table top, graphic wrap, integral shelf, wire management and optional accessories to fit your needs.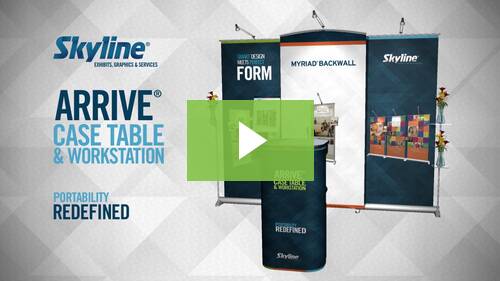 See the Magic of Arrive!
From a single case to a full banner stand display and functional workstation, see the features and ease of the smartly-designed Arrive system.
Get Inspired!
Thank you for your interest in Skyline Exhibits. Working with brands of all sizes, we create award-winning tradeshow experiences through modular structures, high-impact graphics, custom fabrication and comprehensive services.

To download the Arrive brochure, simply fill out this form.