Arrive® Banner Stand & Case Table
Arrive Banner Stand Display & Case Table Workstation
Everything In One Case!
Arrive with everything you need. A complete 10' (3m) display in a single case that converts into a functional computer workstation with built-in wire management.
Exalt® Curved Banner Stand
Choose your banner stand display! Either Exalt, which converts from linear to curved with the simple flip of levers for a look unique to banner stands...
Myriad® Banner Stand
...or Myriad,designed with integral merchandising capabilities. Myriad has stylish shelves and literature holders.
Single-Case Portability
Arrive case holds your banner stand display along with accessories and graphic wrap that transform your case into a branded workstation.
From Case To Workstation
Arrive transforms with ease. Your entire display and workstation sets up in less than 30 minutes.
Multi-Functional Workstation
Arrive case features a table top, graphic wrap, integral shelf, wire management and optional accessories to fit your needs.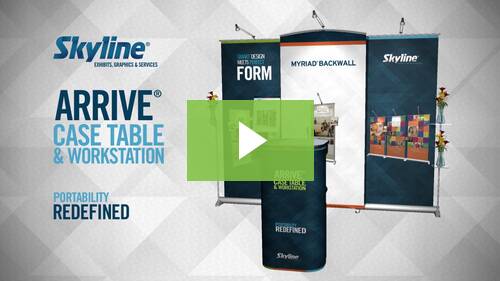 See the Magic of Arrive!
From a single case to a full banner stand display and functional workstation, see the features and ease of the smartly-designed Arrive system.
Skyline Arrive Product Brochure
Arrive® is a display and workstation system in one. The Arrive case holds an entire banner stand inline display and converts into a functional workstation that you can customize to fit your brand and objectives.
After you request an electronic version of this brochure, you will have the option to also request a hard copy version as well. Please check your email after you submit your request for a link to this form.
We will not sell your information to third party vendors. We use this information to fulfill your request and provide you better service. Click here to review Skyline's privacy policy.