"The exhibit was awesome – a huge success. It definitely caught people's eye."
Bryan Richert
Events Manager, ATK Sporting
Sleek and Streamlined
Envoy® exhibit system is designed to allow graphics to stand out. Sleek, modular structure features Skyline's exclusive FlexLock® Fabric Connection System, which conceals fabric to hardware connection.
Perfect For Backlighting and Wire Management
With Envoy's 4-inch panel depth, it's perfect for double-sided backlit graphics while hiding unsightly wires and technology connections.
Merchandising
Envoy shelves and counters integrate seamlessly for a professional look and brand presentation.
Stylish Counters & Seating
Custom modular Envoy can be designed to fit your every need. Built-in counters or seating add functionality for staffers while maintaining a design that is seamless and streamlined.
Brilliant 2-Sided Lighting
Stand out with double-sided backlit graphics! Envoy, with Skyline Stella fabric and energy-efficient Skyline LED lighting, attracts attention and hides all wires for a clean look.
Buyers Choice Award!
Upon its release, Envoy won the prestigious Buyers Choice Award, which recognizes the best new products at EXHIBITOR Show, the biggest event in the trade show industry.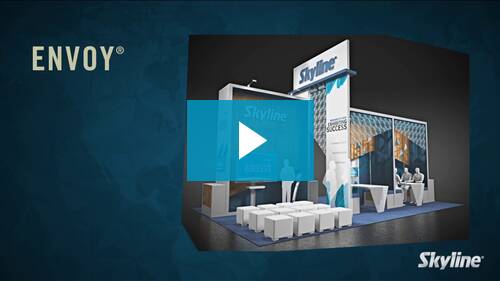 Envoy: The Future of Exhibiting is Here
New square and angled design! Envoy, now with square and angular corners, merchandising accessories and more, provides a truly custom look, with all the benefits of a modular system.
Success Story and Design Ideas
Aiming for Dominance
For large-caliber impact on a budget, ATK Sporting opted for a 70'- by-100' custom rental exhibit supported by Skyline's Las Vegas Service Center. A leader in...
VISIT OUR IMAGE PORTFOLIO
From portable displays to custom modular islands, see photos and concepts of exhibits that Skyline designed for optimum results based on client requested needs.
Rental Catalog
With Skyline Custom Modular systems, you can rent virtually any exhibit design at any size. Visit our Rental Catalog to see just some designs we have for rent.
Request an Envoy product brochure!
Envoy is setting the standard for elegance in exhibiting. Its curved corners provide a soft, clean look while its sleek profile allows graphics to stand out.
After you request an electronic version of this brochure, you will have the option to also request a hard copy version as well. Please check your email after you submit your request for a link to this form.
We will not sell your information to third party vendors. We use this information to fulfill your request and provide you better service. Click here to review Skyline's privacy policy.