"I had already purchased a less expensive aluminum pop-up display via the internet when I discovered Skyline's Mirage. I wanted a high-quality pop-up that will last for years, so I bought the Mirage as well. Now someone else owns the internet unit!"
Jeff Anderson
Christoff Mitchell Petroleum
Pop-Up Portability
Great look and convenience! Mirage pop-up displays give you a classic curved look and big, uninterrupted graphics. Mirage is easy to set up, ship, and transport. Frames and channels have a lifetime warranty.
The Very Best Frame. Period.
The most durable pop-up frames available. If impacted, Mirage's fiberglass frame flexes and bounces back without damage, unlike aluminum. Mirage display frame and channels have a lifetime warranty.
Highest Quality Graphics
Make an impression on clients and prospects with the highest quality, longest lasting graphics.
Convenient Case Table
Transform your cases into a branded workstation! Table top and panels attach quickly and easily with magnets.
Attract With Backlighting!
Mirage can be backlit with Skyline LED lighting to attract attention to your brand and message.
Backlit Bubble Panel
Bubble Panel gives Mirage a new look and can be backlit for more attention. Easy to install or change out as your message changes.
Marquee Header
Marquee header spans the curve of Mirage and can be backlit to make your name and message stand out.
Digital Presentations
Mirage Monitor Mount allows exhibitors to mount up to two 15 lb. monitors or up to four 10 lb. monitors on their 10' curved Mirage frame.
Accessories
A variety of accessories like shelving, counters and flat screens display your products and message.
Merchandising
Mirage has shelving, racking and other accessories available to showcase products of all kinds.
Convex Graphic Panels
Mirage is designed to accommodate graphics on both front and back for island applications.
Island Configuration
Connect 3 Mirage units together to create an attractive island exhibit.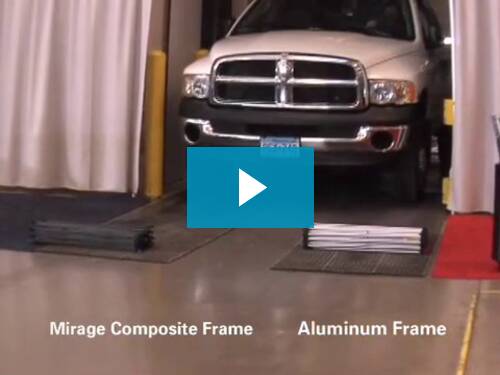 Is Mirage's composite frame more durable than aluminum?
The most durable pop-up frames available. Period. Mirage frames are the most durable in the industry. If impacted, they bounce back without damage -- unlike any other pop-up.
Success Stories, Photos and Ideas
SMALL, POWERFUL DISPLAY
Heritage Collectables garners one-third of its annual sales at a dozen shows and needs as much space as possible to display its commemorative knives and firearms. Think small, Skyline advised...
RESULTS GROW
A new logo, changes to two major product lines and a story-telling exhibit produced a happy ending for John Deere-Green Tech. "We had phenomenal results. Our new exhibit..."
BIG BEAR HUNGERS
Known for superior quality, Big Bear Promotionals upgraded to a tabletop display that reflects the company's image. "We wanted to use bold, eye-catching graphics that would..."
Rental Catalog
With Skyline portable and custom modular systems, you can rent virtually any exhibit design at any size. Visit our Rental Catalog to see just some designs we have for rent.
VISIT OUR IMAGE PORTFOLIO
From portable displays to massive custom modular island exhibits, see photos and concepts of exhibits that Skyline designed for a wide variety of exhibiting objectives.
Request a Free Skyline Mirage® Display Product Brochure
Great look and convenience! Mirage® pop-up displays give you a classic curved look and big, seamless graphics. Mirage is easy to set up, ship, and transport.
After you request an electronic version of this brochure, you will have the option to also request a hard copy version as well. Please check your email after you submit your request for a link to this form.
We will not sell your information to third party vendors. We use this information to fulfill your request and provide you better service. Click here to review Skyline's privacy policy.