" …gave me more than I expected. I can use two or three together, or separately. I can use them at trade shows or other sites. I can market both my products. It's extremely flexible. "
When Gil Hicks
Owner, GCT Golf
Literature & Merchandise
Designed with built-in merchandising, Myriad gives you the ease of a banner stand with more flexibility. Acrylic and metal shelves and literature holder available. Holds up to 4 lbs. (8.1kg) per pole.
Flat Center Panel
Myriad's fabric center panel gives you a full backwall display using only 2 units (base and graphics) so you reduce weight and cost. Center panel can be flat or arched.
Arched Center Panel
Myriad's arched center panel gives you a look distinct from traditional banner stands.
Easy to Change Graphics
Myriad's base has the Skyline Graphic Exchange System, which allows you to easily change your graphic panels.
Smart, Single-Case Packing
A single Myriad unit packs in a soft-sided, compartmentalized case for protection. The case has a shoulder strap for easy transport.
Arrive® Case Table
Add a functional table! Three Myriad units pack into an oval case that can transform into a useful and stylish table.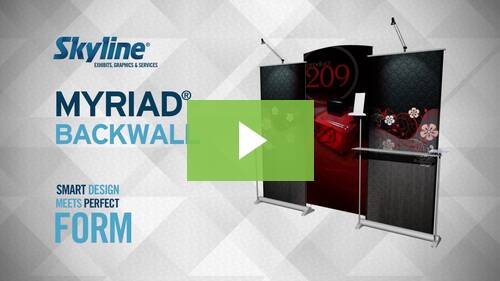 Smart Design Meets Perfect Form
See how easy Myriad Banner Stand installs and the accessories that make it more functional than ordinary banner stands.
Request a Myriad Product Brochure Today!
Myriad® banner stands offer you more than other banner stands. In addition to giving you lightweight portability, convenient set up and big graphics, you also get the ability to display products and literature.
After you request an electronic version of this brochure, you will have the option to also request a hard copy version as well. Please check your email after you submit your request for a link to this form.
We will not sell your information to third party vendors. We use this information to fulfill your request and provide you better service. Click here to review Skyline's privacy policy.