Occasions® Table: Multi-Talented and Full of Advantages!
Stylish, Functional, Portable
Easy-to-install accessories include stylish shelves for showcasing product, literature holder and digital screen mount for presentations.
Branded Graphics
Custom graphics quickly install without tools and are easy to change out when you update your look or message.
Available For Rent
If rental is a better option, you can rent Occasions and its many accessories to complement your trade show display.
Portable Table Packs Small
A single Occasions table fits into its soft-sided shipping case. The case has a handle and shoulder strap for easy transport.
Quick, Easy Set Up
You'll be exhibiting in minutes! Occasions table and accessories are smartly designed for easy installation!
Easy Access Storage
Occasions has two built-in 9" x 14" inch shelves that provide concealed storage and easy access.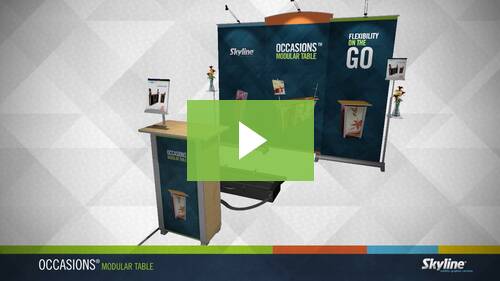 Occasions® Custom Modular Table
Occasions is the exciting custom modular table system from Skyline. Designed for elegance and engineered for performance, Occasions gives your brand a powerful presence and provides the functionality needed for effective face-to-face marketing. Occasions is customizable with a host of accessories and versatile to fit changing needs.
Get Inspired!
Thank you for your interest in Skyline Exhibits. Working with brands of all sizes, we create award-winning tradeshow experiences through modular structures, high-impact graphics, custom fabrication and comprehensive services.

To download the Ocassions Table brochure, simply fill out this form.