The Portable PictureScape System
CUSTOM SHAPED DISPLAY TO FIT YOUR CUSTOM BRAND
Custom-Shaped Frame
Create the shape of your display to fit your brand! Nearly any angled shape available.
Clean, Custom Graphics
Skyline fabric graphics formed precisely to your display shape and attached with our concealed connection system for a clean brand presentation.
Hanging Signs & More
PictureScape® is lightweight and makes a great hanging structure or added accessory to other Skyline display systems.
Unique Kiosks
There are endless possibilities for a kiosk designed to add functional display capabilities or to draw attention to your brand or product.
Accent Product Shelving
To display lightweight products and literature, small shelves and literature holders are available for increased functionality and flexibility.
Unbeatable Workmanship
Combine a stylish design with our precise manufacturing process to create a one-of-a-kind modular display, kiosk or accent piece.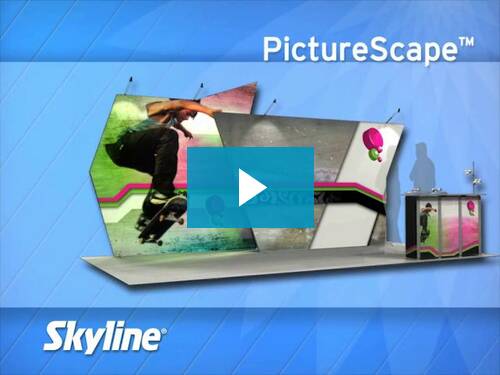 PictureScape Makes an Impact
Nearly unlimited possibilities. Custom shaped displays to fit your brand.
VISIT OUR IMAGE PORTFOLIO
From portable displays to massive custom modular island exhibits, see photos and concepts of exhibits that Skyline designed for a wide variety of exhibiting objectives.
Rental Catalog
With Skyline portable and custom modular systems, you can rent virtually any exhibit design at any size. Visit our Rental Catalog to see just some designs we have for rent.
Request a PictureScape product brochure today!
Step Outside of Square! PictureScape® allows for angled frame sections so you can create a look that complements your graphics and supports your brand. Create nearly any angular shape imaginable.
After you request an electronic version of this brochure, you will have the option to also request a hard copy version as well. Please check your email after you submit your request for a link to this form.
We will not sell your information to third party vendors. We use this information to fulfill your request and provide you better service. Click here to review Skyline's privacy policy.